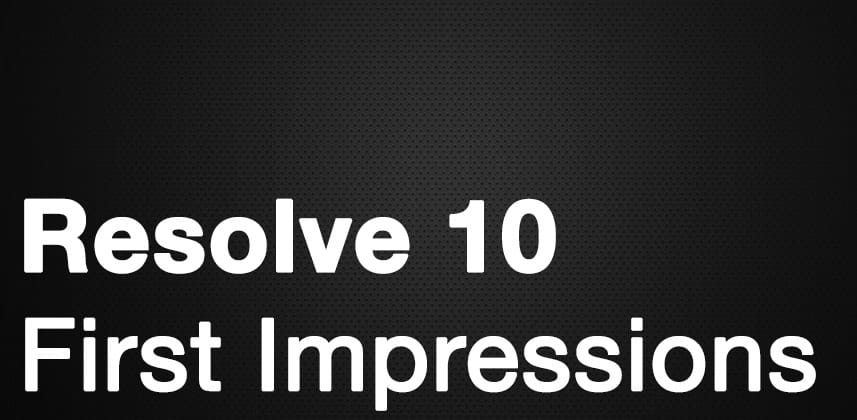 NAB 2013: DaVinci Resolve 10 First Impressions

I had the pleasure of checking out the brand new version of DaVinci Resolve at the show. If I had to sum it up in one sentence it would be: They Listened!
This release has the perfect blend of new toys, creative tools and useful time saving improvements that will make my grading life a lot more fun. Its hard to tell from the features list how important and fun some of these new features are, so I'll do my best to convey how excited I am! I'm going to start with the color features and then move into the editing and online finishing(!) features. Resolve 10 is is not yet shipping and they are demoing a Preview at the booth today.
Resolve Live
Resolve Live (no, not Resolve Lite but Resolve LIVE) is a new mode in Resolve that does exactly what it says!  It lets you feed SDI in, grade pictures live and feed SDI back out to your on-set monitors. At the booth they have a Blackmagic Cinema Camera feeding thunderbolt directly into a Retina MacBook Pro and outputting via thunderbolt BMD Mini Monitor box to a SDI monitor. Add a Tangent Element panel to the mix and you have yourself an awesome on-set live grading system. You can grade using all the normal grading tools like adding nodes, using windows and qualifiers.
Another feature is the ability to freeze the incoming picture grade a single frame or grab stills—which preserve timecode —so when doing the final grade you can apply the grades of those grabbed stills to shots automatically.
Color Correction Enhancements
The big news of the day is Resolve's editorial features but the color correction enhancements are impressive. There are literally two pages of new features for color correction but I'm going to focus on the ones that blew my mind . . .
OFX Plug-ins
Correct – DaVinci Resolve 10 supports plug-ins! This is HUGE for me. There is a new button to the bottom right of the node graph. Click on it and out pops a list of installed OFX plugins.
For example,  I grabbed a lens flare from Sapphire and dragged it into a node and bam, a beautiful lens flair directly in Resolve. In my opinion, OFX support is the most important new feature of this release. This architecture will support any OFX plug-in so if you want do use something like Neat Video's noise reduction plugin you can! Resolve just got a hell of a lot more flexible for me in my commercial workflow.
Power Windows
The Resolve team has completely redesigned  Power Windows. You now have unlimited windows per node, brand new gradient power windows and a totally redesigned power curve windows that are a pleasure to use. Think Photoshop or Smoke type masking and that should give you an idea of how good these windows are. They even added fourth trackball suport for window rotation for people who have the BMD panel.
Motion Effects 
This is the new tab for all things motion related –  there is the original spatial noise reduction but its now joined by temporal noise reduction which analyses the previous and next frames and yields you some great results. If you combine both the spatial and temporal reduction you should be able to tackle even the most difficult shots!
Grid Viewer
This is a whole lot of fun. You can selet a shot and display either all the versions of that shot, or shots in that group, in a grid that goes from displaying 4 images right up to 16.
It gets even better, the Grid Viewer also feeds SDI out  so you can watch the grid in real-time. I can see this being great where you have a difficult client and you can just pop up all the versions of a shot and push play so they can pick out their favorite one.
Splitter and Combiner Nodes
You can now split out your image into RGB, YUV and HSL nodes! This gives you total control over your image. Imagine  a noisy blue channel—you can now noise reduce just that channel or if you'd prefer to sharpen the luminance plus blur the chroma only. The more compositor type colorists have been asking for this functionality for a long time and I'm excited about using this in my own work.
Node Based PTZR
This is something you may gloss over but its amazing! You can draw a window and then use the node based PTZR to clone out bits of your image. I had a job recently where there was a light in shot over a black background. There was nothing I could do In Resolve 9 to fix it but using this new feature, object removal looks like a breeze.
Other Useful Bits
Global Bypass – Bypass your nodes without turning them off! No more nodes turning on that you didn't want.
GUI LUT – Calibrate your Interface to match your grading monitor with interface luts.
Lighbox SDI output – Send your lightbox to the SDI monitor, they've also added grading controls to this view.
Saving and Applying Tracking data and Keyframes in Stills – I've wanted this for so many years and they've delivered. This will make my life so much easier!
Enhanced Blur – The blur now goes up to a million! For those that needed stronger blur the new blur is 10x stronger and perfect for blurring out faces and logos—pair this up to the tracker and you have a powerful new combination
Editing and Finishing Enhancments
As I'm not best at judging the editing features I'll keep it to the ones that impressed me the most.
On first impression Resolve is now a full on editing system. I'm not an editor but playing around with it seems like you could now use Resolve 10 as a full offline and online finishing system.
One Trim Tool
A great thing even I as a non-editor love is the fact that there is only one tool for trimming. You move your cursor between the top, bottom and sides of the clips and it will change from slip, roll and there is even a nudge tool in there.
Optical Flow
Finally we have great-looking time warp options in Resolve. I grade a ton of music videos and time remapping is a killer for me. The optical flow looks great and gives us lots more options to stay within Resolve for all our finishing needs.
Titling
The titling tool is still a work in progress but from what I tried out It felt like its a solid foundation for all your titling needs. At the moment the functionality is similar to the titling tool in FCP.
Audio
Audio is now fully editable in Resolve. Imagine how it works in all NLE's and you've got it. As a colorist I'm looking forward to being able to check audio levels and adjust them for mastering and I'm sure it will be a great option to have on those tight deadlines.
DCP Creation
Resolve can now read and write Jpeg 2000 files. If your working in the world of DCP creation this will be a great addition to your life. The best news about this is if you also own Easy DCP, Resolve will interface with Easy DCP and give you all the options you have in that tool directly in Resolve. I'm looking forward to trying this out!
Conclusion: Resolve 10 First Impression

Resolve 10 is a beefy release.
There is so many new features that literally everything is now better, easier and faster in Resolve. I love the new creative options and choices that we have and backing that up with a huge range of workflow improvements has turned this from a great release into an amazing release.
I'll be demoing Resolve 10 at the BMD booth from about 10 or 11 until 3pm. So stop by the booth and I'll be happy to give you a demo.
One thing I know: When NAB ends this week and I go back to using Resolve 9 on Monday morning I'll be missing almost everything about 10. Resolve 10 is expected to ship in Q3 of this year.
Don't worry: You can rely on the MixingLight team to stay on top of Resolve 10 and share our insights as we discover them!
– Dan
Comments