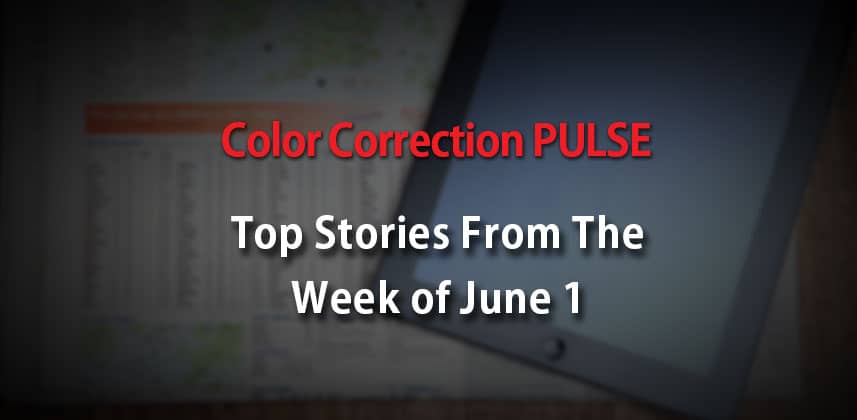 We're going to start a new weekly feature here on MixingLight.com… and it's a hybrid effort with our sister site, TaoOfColor.com.
Almost every Sunday morning, for nearly 4 years straight, Patrick has been publishing the Tao Colorist weekly newsletter—a round-up of each week's most interesting color correction news. A sort of New York Times for our specialty, he also covers the business, education, funnies, career and one or two off-beat sections.
What are the most popular stories each week?
In a recent MixingLight conference call, Patrick mentioned that there are always 3-4 stories that lead the pack each week. These are the most read stories by his Newsletter readers. And they tend to provide Insights into what color correction lovers find most interesting at any given time.
Color Correction Pulse Weekly
Twice a year, the Tao Colorist Newsletter does a huge wrap-up edition, listing the most popular stories from the past six months. And those Special Editions will continue to run.
But here on MixingLight, we're going to give you Weekly Updates. The Wednesday after each Newsletter runs, we'll post here the Top Three most widely read articles in the previous Sunday's newsletter.
Enjoy this, the first of these posts!
[separator]
Color Correction Pulse: Week of June 1
Summer in the USA is here! And that means the reading stats are down… but there were three stories in Sunday's June 1 Edition that clearly caught Newsletter reader's attention, with a fourth runner up.
In no particular order, the Top 4 most popular stories:
Article: How To Master Color Theory
From the difference between Additive and Subtractive color systems to the 3 components of color to color gamut, this article will get you started on the basics of color terminology. It also includes links to additional resources.  [read_more_button link="http://www.creativebloq.com/colour/colour-theory-11121290″]CreativeBloq.com[/read_more_button]
Video: Color Management 101
An introductory overview about color management geared towards video game artists. Key take away: Color management is so that two artists can see the same image when working across multiple displays, or mediums. [read_more_button link="http://youtu.be/Hl90Ve2dZY4″]YouTube.com[/read_more_button]
Article:

Gender… Why That Color?
"Before a little human is even born, and certainly before developing the ability to choose colors, it gets color coded. Researchers generally agree that this is a 20th Century phenomenon that reached its peak after World War II due to the explosion of manufacturing and product choices." This article goes on to explain the history of gender-assigned colors and how the color script flips when children become adults. [read_more_button link="http://munsell.com/color-blog/why-that-color-gender/"]Munsell.com[/read_more_button]
Blog:

One Way Trip with DaVinci Resolve 10
"We tend to be very conservative about changing our workflow during a project but because we wanted to grade in Resolve 10 and it needs to run on Mac OS 10.9 Mavericks we can't run FCP 7 on the same machine, so we started to look at ways of streamlining our finishing process." Includes a good explanation of the 'roundtrip' concept and specific workflow details. [read_more_button link="http://www.thefilmbakery.com/blog/one-way-trip-with-resolve-10″]TheFilmBakery.com[/read_more_button]
Comments