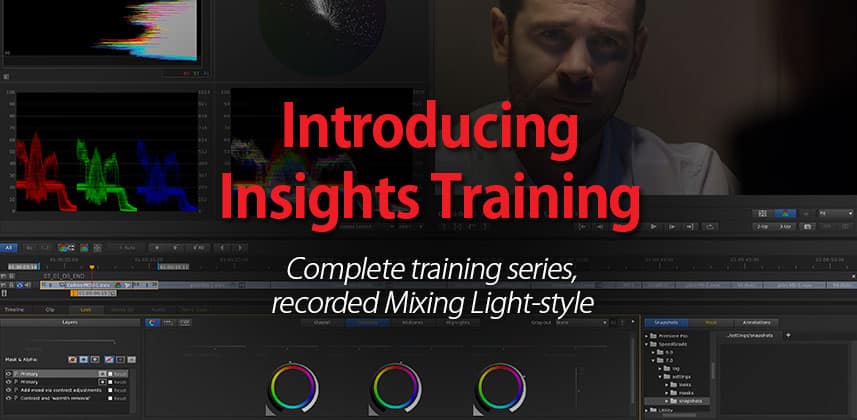 [h1_focus_heading]Insights Training: SpeedGrade CC[/h1_focus_heading]
[title_description]Complete stand-alone training. In quick bites![/title_description]
It's a big day for us here at MixingLight.com!
We're proud to announce a new line of color correction training. It's called: Insights Training. Just like our Insights Library (the heart of MixingLight.com), it's delivered in quick, single-thought bites. It's designed for the busy professional who consumes this kind of training in short spurts. Unlike our Insights Library, content in Insights Training is available for download to non-members – but MixingLight.com members get extremely discounted pricing on all Insights Training titles.
Launching our Insights Training is our title on Adobe SpeedGrade CC. Now that Adobe has gone to an all-you-can-eat subscription model with Creative Cloud — Team MixingLight thinks SpeedGrade will start seeing some serious adoption in the next year as more users become aware of this powerful tool.
Insights Training: SpeedGrade CC clocks in at over 4 hours and 20 minutes, spread across 47 individual movies separated into 12 chapters! The average length is just over 5 minutes. It was created by Patrick Inhofer and produced by Robbie Carman, MixingLight.com co-founders.
[h3]Coming Soon AVAILABLE NOW on MixingLight.com[/h3]Update: This training is now instantly available through this website. Insights Training: SpeedGrade CC  features:
1080p downloadable training movies, embedded with iTunes Metadata.
Hight-quality streaming movies, streamed directly from the website
SpeedGrade CC and Premiere Pro CC exercise files, so you can follow along with Patrick
Camera original footage from the three different projects we grade – so you can follow along and grade the footage at the highest possible quality
Transcoded footage to ProResLT: If you have slow or metered internet access, these files are much smaller than the camera-originals sacrificing only a small amount of color fidelity (and are the exact files we used to record the actual training).
1-hour bonus presentation by Patrick Inhofer: Why Color Grading Is So Hard (and what you can do about it)
Direct interaction with Patrick and Robbie via MixingLight.com
Special Members-only Pricing

 
[h3]Available NOW: On Lynda.com![/h3]That's right. If you're in a hurry you don't have to wait, just head over to Lynda.com where this exact training title is available NOW!
You read that correctly: Our first full length training title is also available at Lynda.com under the title, Up and Running With SpeedGrade CC.  We're honored to have our content hosted in the amazing Lynda.com Online Training Library with literally thousands of other amazing titles. If you're a current Lynda.com subscriber, you have immediate access to this 4 hour 20 minute title. Premium members of the Lynda.com will also have access to all the project files and ProResLT versions of the project footage.
[h2_focus_heading]Not sure? Get a quick Preview… Today![/h2_focus_heading]
Click on the link in the button below to get a preview of a half-dozen of the lesson movies, read the full syllabus and get instant access – right now.
[button title="Check out the Pricing and Full Syllabus" color="red" size="xlarge" link="https://mixinglight.com/video-training-tutorials/speedgrade-cc-training-tutorial/" in_new_tab="false" icon="icon-external-link"]
– Team Mixing Light
Comments